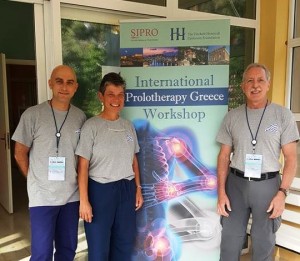 By Annette "Dr Z" Zaharoff, M.D.
I recently returned from a trip to the island of Crete, Greece to help train European physicians on utilizing Prolotherapy, a regenerative injection therapy I have been practicing and teaching for the past 15 years.
It's a passion of mine. Prolotherapy is an effective injection treatment to help patients with joint, tendon or ligament injuries.  Prolotherapy injections use dextrose (a form of sugar) and lidocaine to initiate a healing cascade.
In Greece, I was one of three senior instructors who led a weeklong teaching clinic for 12 "student" physicians and three intermediate-level instructors from Slovenia, Dubai, Croatia, Turkey, Italy, Sweden, Norway, Germany and, of course, Greece.  The doctors in training have been in a yearlong prolotherapy course with our clinic week giving them the opportunity to treat patients under the supervision of experienced Prolotherapy practitioners.
We set up our teaching clinic in the picturesque mountain village of Anogeia. Following a day of lectures, physicians treated patients with Prolotherapy injections in one of six treatment rooms. As an added bonus, at the end of the week, three faculty members and I volunteered to travel to another village about 90 minutes outside Angoeia to treat patients at the request of our Greek host physician.
The patients were incredibly grateful and gracious, treating us to wonderful meals, music and more. One of the few sightseeing highlights of the trip was a tour of a pottery plant that ships goods around the world.
The European Prolotherapy Mission was inspiring.  It was reflective of a worldwide collaborative effort by prolotherapy physicians to help patients with orthopedic pain.  The mission also supported the service and medical education vision of the Hackett Hemwall Patterson Foundation (HHPF), a non-profit group based in Wisconsin that promotes Prolotherapy training for physicians.
I serve on the Board of Directors for the Foundation and take an active role in training as the Director of Education. The HHPF has led teaching clinics and mission trips to Honduras for over 30 years and mission trips to Mexico for 10 years. For more than two decades, we have been conducting an annual Prolotherapy Research Symposium and Conference at the University of Madison in Wisconsin. This October will be the 22nd annual symposium, which has attracted physicians from around the world, including some who attended the European mission like clinic director Dr. Steve Cavallino of Italy.
This was the second such Prolotherapy mission trip in Greece, complementing a similar teaching clinic held in Italy last year. A third Greek mission is already being planned. It's a testament to the hard work of everyone involved in the Hackett Hemwall Patterson Foundation. From Wisconsin to Honduras and Mexico to Italy and Greece, our mission to promote effective healing is spreading across the world.
I've been asked to return next year. I haven't made up my mind, but will look forward to supporting the continuing mission any way I can.
About the Non-Surgical Center of Texas
Dr. Annette Zaharoff, a former professional tennis player on the WTA circuit, has led the Non-Surgical Center of Texas on Huebner Road (www.drzmd.com) for more than 25 years.  An expert in Rehabilitation Medicine, Dr. Zaharoff is a South Texas pioneer in utilizing cutting-edge, regenerative injection treatments such as Stem Cell Therapy, Prolotherapy and Platelet Rich Plasma injections which are part of a comprehensive physical therapy and rehabilitation program.