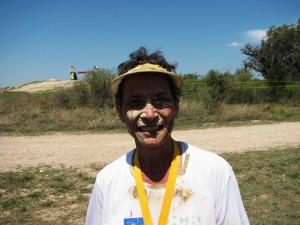 So you're thinking about trying a run but you're not sure you want to do an ordinary, everyday 5K or 10K. You're interested in having fun, but you also want to challenge yourself.
Maybe what you need is to try something new to energize and inspire you. May I suggest a mud run.
Mud runs, or obstacle race courses, have become increasingly popular in recent years, with a sub-culture of enthusiasts who engage in these physically testing events. Competitors have to overcome various obstacles, often resembling military training. Some courses require you to swim through an ice-cold (or iced down) pool, climb over walls or fences, ring a bell at the top of a rope climb, and slide down hills. You may even have to jump over burning logs to get to the finish line.
Of course, almost all of these courses include a "mud" obstacle, where competitors have to crawl through a wet clay or mud pit. But many courses, like many runs, offer unique experiences depending on the obstacles, the natural terrain and whether you compete as an individual or as part of a team.
Keep in mind this is not "adventure racing," which is a truly extreme sport that often involves a combination of mountain biking, kayaking or climbing with the added challenges of sleep deprivation and sometimes food deprivation.
Obstacle race courses, or mud runs if you prefer, often put a premium on the fun aspect of the event. You don't have to be a seasoned competitor to take part.  Many of these events allow competitors to skip challenges if they don't feel up to climbing a rope or scaling a wall. There are even a few people who get into a mud run who don't want to get muddy.
But for most people, walking around with caked-on mud or clay at the end of the event is a badge of honor.  Both Non-Surgical Center of Texas Doctor of Physical Therapy Julie Barnett and I took part in the Thunder Dash in Comfort a couple of years ago, and placed well in our age groups.
So what do you need to do to prepare for a mud run?  Many of these events are geared toward a balanced athlete, someone who not only has the endurance to complete a race, but who also has good balance and upper- and lower-body strength to "defeat" the obstacles. A willingness to get dirty is also a major plus.
Here are a few basic tips for beginners:
Get out and run. Just being on a treadmill isn't the same. You'll want to run on undulating terrain to train your body to deal with hills and valleys. Try running easy for 10 minutes, moderate for 10 minutes then go hard for 10 minutes with a 10 minute cool-down to start. After a couple of weeks of this — running 3-4 days at least a week — extend the cycle to 15 minutes each for an hour-long run.
Do some sit ups– You want have a strong core so if you aren't in the habit of doing core work, try this simple routine: 30 seconds of hill climbers, 30 seconds of planking and 30 seconds of abdominal crunches, alternating for 3 sets (in which every 90 seconds of workout is 1 set). This should take about 5 to 6 minutes if you're taking a short rest between sets. Do this once a day, at least four days a week for 2-3 weeks. Then do it twice a day and keep that routine in place leading up to the event.
Do some push-ups – You need to develop upper body strength so if you don't have time to go to the gym and lift weights, push-ups are an at-home solution. Modify them by doing them on your knees if you can't do them on your toes to start. Try doing at least 3 sets of 10 push-ups for at least 3 days a week for 2 weeks. Then increase to 4 or 5 sets of 10. If you can increase the difficulty by going from your knees to your toes, do it.
That's a fairly simple start that should get you ready to tackle a mud run. Don't put too much pressure on yourself to "do well."  Go out and have fun and remember it's about getting out and doing something to feel good and get healthy. Just don't be afraid to get dirty.
Dr. Annette "Dr. Z" Zaharoff heads the Non-Surgical Center of Texas, focusing on non-surgical alternatives to relieve pain and repair injuries. A former professional tennis player who competed in the WTC circuit, Dr. Zaharoff remains actively involved with the US Tennis Association. Learn more about her at www.drzmd.com.