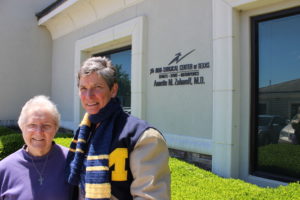 Cancer survivor Sister Barbara Fry entered the convent in 1964 as a Sister of Divine Providence. She spent her vocation in service, first as a teacher before moving on to do campus ministry in Louisiana and Houston, and performing medical social work in hospitals and hospice. Along the way, she learned how to knit and crochet, giving away her creations of scarves, vests and even coats for pets.
She returned to San Antonio when a bout with kidney stones resulted in a visit to the emergency room. "The ER doctor gave me double dose of an antibiotic that caused pain in my leg," Sister Barbara said. "It was really bad. I'd say it on a pain scale of 10, it was an 8 all the time."
Her primary care physician didn't have a remedy for her, but Sister Barbara saw a report on television about regenerative injections. Prolotherapy is a type of regenerative injection in which a mixture of lidocaine and dextrose (the body's naturally produced sugar) that is used to treat damaged ligaments or tendons.
"I went and found Dr. Annette Zaharoff and we got into treatment for my leg – physical therapy, at first, and then I had the Prolotherapy Injections," Sister Barbara said. "That helped so much. I didn't have much pain after that first injection."
"And then I had breast cancer. They gave me some more medicine after surgery that, once again, caused my leg to start hurting. I also had something called trigger fingers in both hands. Imagine you close your hand and you can't open your fingers; they are just stuck. If you force your fingers to open manually, it hurts a lot."
Another round of Prolotherapy Injections in her hip and leg helped address the pain in her leg. For the trigger fingers, which were keeping her from her passion for knitting and crocheting, Sister Barbara worked with the experienced physical therapy team at the Non-Surgical Center of Texas.
"After a lot of therapy, I'm able to do as much knitting and crocheting as I want," Sister Barbara said.
To show her appreciation, Sister Barbara made a scarf for Dr. Z in the gold and blue school colors of her alma mater, the University of Michigan. A couple of years ago, the school sent Dr. Z a varsity jacket to make up for the fact women athletes at the school had never before been awarded the jackets, unlike their male counterparts. Dr. Zaharoff played on the women's tennis team at Michigan and the University of Texas, and also played on the WTA pro tour.
Dr. Z is still consulting with Sister Barbara about some other health issues. Sister Barbara says she knows she is in good hands.
"I've gotten so much function back in my hands. I couldn't do anything with them before because I had so much pain," Sister Barbara said. "I am grateful to Dr. Z and her team for helping me to continue to do something I love so much."
April 2019