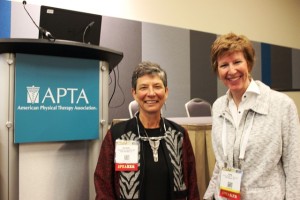 Non-Surgical Center of Texas providers Annette Zaharoff, MD and Julie Barnett, DPT, were among the featured presenters at this year's APTA Combined Sections Meeting, the largest gathering of physical therapists in the country
More than 150 physical therapists and other healthcare professionals attended their 2-hour presentation "Regenerative Injections: Still Quackery? PT Research and Rehab Pearls.
The presentation included presentations about new and ongoing research on the effectiveness of Prolotherapy, Platelet-Rich Plasma Injections and Stem Cell Injections. Dr. Zaharoff has been a pioneer in the use of these non-invasive healing techniques for more than a decade
The American Physical Therapy Association (APTA) held its Combined Sections Meeting Feb. 15-18 at the Henry B. Gonzalez Convention Center. More than 11,000 healthcare professionals attended this year's event.