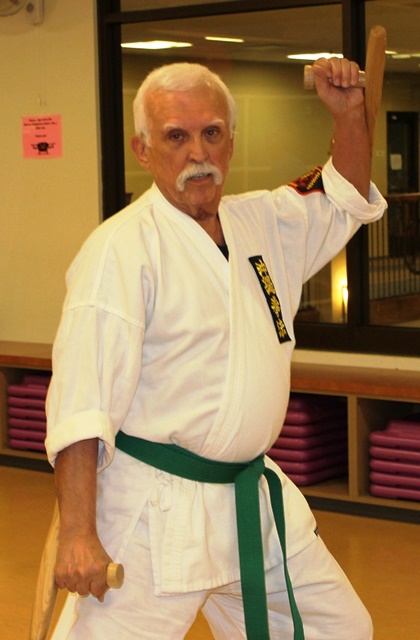 SAN ANTONIO, TX – Alan Gingrich lived with sometimes crippling back pain for all of his adult life.
"It was so bad. I could be standing at the counter shaving in the morning and I could feel my back tightening up going to the left and I'd end up leaning over," said Gingrich, a 76-year-old retired Doctor of Oriental Medicine. "I'd have to crawl on the floor; I couldn't get up and stand."
He tried cortisone injections, but the relief was temporary. He had back surgery. That helped for a couple of months, but the pain returned.
Gingrich saw one of the nation's leading orthopedic surgeons to schedule a major procedure involving rods, screws and brackets that would be placed in his spine. "I had second thoughts about that, and when I told him I was cancelling the surgery he said, 'I don't blame you. I have back problems, too, and I'm not going to have back surgery.' "
Gingrich tried a chiropractor who used an alternative therapy to separate the vertebrae, but again, the relief was temporary. He was about to be resigned to having to live with back pain. Then, Gingrich spoke to a medical doctor and friend in Arizona who had recently resolved his back pain with an injection therapy called Prolotherapy. Prolotherapy, or regenerative injection therapy, is treatment of tissue with the injection of an irritant solution such as dextrose into a joint space, weakened ligament, or tendon to relieve pain.
Gingrich researched physicians in San Antonio and found Dr. Annette Zaharoff, Medical Director at the Non-Surgical Center of Texas and one of the nation's leading practitioners in the use of injection therapies to treat joint and musculoskeletal injuries. She regularly leads clinics to teach physicians about the most effective utilization for Prolotherapy, and is helping develop a global curriculum on the subject for the non-profit Hackett Hemwall Patterson Foundation.
After a consultation, Dr. Zaharoff lined out a course of therapy. It would start with aggressive physical therapy under the direction of the Non-Surgical Center of Texas' Director of Physical Therapy, Julie Barnett, D.P.T.  After a few months, Gingrich could begin Prolotherapy injections.
"I noticed improvement after the first set of injections," Gingrich said. "At times I would feel a little bit of tingle in my left leg or hip. Then it would go away. After every set of injections it just improved more so I have none of that now."
After a series of six injections performed one month apart in 2016, Gingrich is back to doing many of the activities he loves. A former black belt in traditional martial arts, he is now practicing a form of Okinawan martial arts that often involves the use of staffs and other weapons. He works out five days a week, and also leads a weekly Tai Chi class.
"I cannot recommend Dr. Zaharoff highly enough," Gingrich says. "I am living free of back pain for the first time in my adult life. Thank you Dr. Zaharoff!"
To learn more about the Non-Surgical Center of Texas, visit www.DrZMD.com or call 210-616-0646.
About Dr. Z
Dr. Annette Zaharoff, a former professional tennis player on the WTA circuit, heads the Non-Surgical Center of Texas on Huebner Road (www.drzmd.com).  An expert in Rehabilitation Medicine, Dr. Zaharoff is recognized for utilizing cutting-edge, non-invasive treatments such as Stem Cell therapy, prolotherapy, platelet rich plasma injections with ultrasound guidance and acupuncture, often paired with physical therapy.