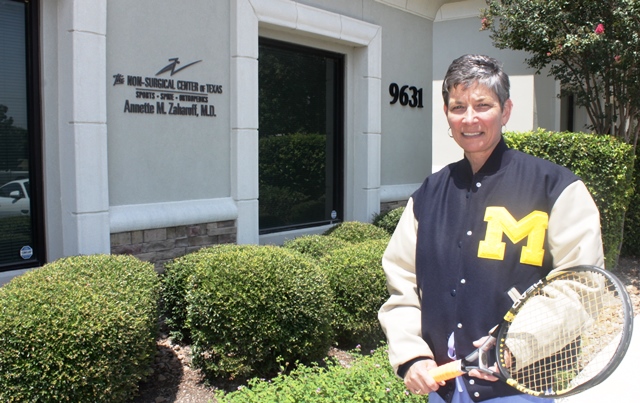 In 1973, I was on the first-ever women's varsity tennis team at the University of Michigan. Two years later I would transfer to the University of Texas at Austin and compete for the Longhorns. Both experiences were important, but the opportunity to be part of a pioneering squad in the history of Michigan athletics remains very special.
Last month, I was reminded just how special this time was. University of Michigan Athletics sent me a letter, along with other women alumni athletes, informing us they were going to right a wrong. For years, women who competed for the Wolverines in varsity sports were not issued varsity letter jackets.
So the letter, penned by current Women's Track and Field/Cross Country team member Erin Finn, informed me that a varsity letter jacket would be coming bearing the familiar maize and blue colors and bold M of one of the country's truly great sports programs.  Sure enough, just a few days later I received my varsity Michigan jacket.
Now to be totally honest, despite the 100-degree weather we have been experiencing, I did not hesitate to put on that heavy jacket and wear it with immense pride for more than just a few moments. The four decades-plus journey this jacket made to get to me and to other Michigan women represents, in its own way, the hard-fought battle for equality in the funding of sports in this country.
In 1973, women's and girls' athletics programs were just getting off the ground at universities and high schools across the country thanks to Title IX, the federal law Congress passed a year earlier that banned sex discrimination in education programs receiving federal money.
Title IX revolutionized women's sports. At the 1972 Olympics, the U.S. women didn't win gold in gymnastics or track and field. In fact, American women didn't earn any medals in gymnastics until 1984.
At the 2012 Summer Games in London, American women for the first time surpassed men in the medal count – 58 to 45. Women made up the majority of the U.S. Olympic team that year, and they did so again in Rio this year. The 2016 Summer Games saw the most dominant performance by a U.S. women's gymnastic team ever, along with the emergence of the most-decorated gymnast in American history, Simone Biles.
The U.S. women's soccer team earned three gold medals in a row before their ouster earlier this month. The U.S. women's water polo team is the defending Olympic champion, while women's eight rowing team didn't just win their third gold medal in a row, they have dominated at all international competitions for a decade. And like the men's basketball team, the U.S. women's team dominated the international field on the court in Rio on the way to gold.
Title IX, which poured much-needed funding and resources into women's and girls' sports programs, is the driving force behind the changes, but so too are changing attitudes toward women in sport.
The marathon was not an event open to women at the Olympics until 1984, in part because some officials thought it was too difficult a sport for women.  Fast forward to today and consider how many women compete in marathons worldwide, including ultra-marathons (100-mile or more races) and our own San Antonio Rock n Roll Marathon.  Earlier this year, Becca Pizzi of Massachusetts set a new record by completing seven marathons in seven days . . . on seven continents.
There is much more that remains to be done to help girls and women continue to reach new heights in sports. According to a recent story on National Public Radio, one non-profit group has active lawsuits against more than 50 colleges for not complying with Title IX. Recent sexual abuse scandals at college campuses across the country, including at Baylor University, are testing Title IX's effectiveness in curbing both the crime of sexual assault – considered the most extreme form of sexual discrimination – and the failure of college administrators to report these horrific incidents.
The pay gap between men and women in sports remains a yawning divide, but one that should change with time as more fans of all genders come to appreciate, and support, competitive professional women's soccer, basketball and more.
Hopefully, it won't take 40-plus years to achieve true equality in sports. Until then, don't be surprised if you see me wearing my varsity letter jacket before the first cold front moves into South Texas.
Dr. Annette "Dr. Z" Zaharoff heads the Non-Surgical Center of Texas, focusing on non-surgical treatments to relieve pain and repair injuries. A former professional tennis player who competed on the WTA circuit, Dr. Zaharoff remains actively involved with the US Tennis Association. Learn more about her at www.drzmd.com. You can follow her on Facebook at www.Facebook.com/DrZaharoff.