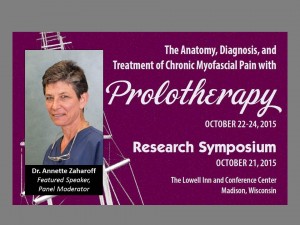 Later this month I'll be making an annual pilgrimage to Madison, Wisc. for a much-needed and appreciated opportunity to teach and learn about a subject I care very much about – research and treatment of muscle and joint pain with simple injection therapy.
Specifically, we'll be talking about the use of prolotherapy at the 11th annual University of Wisconsin Hackett Hemwall Patterson Foundation Prolotherapy Conference and Research Symposium, set for Oct. 21-24.  I'm privileged to serve on the board of this non-profit medical education organization, and will be presenting as well as serving as a facilitator and moderator at this year's event.
Clinicians and researchers from around the world will be in attendance to hear from some of the best academic and practicing healthcare providers in the world who are studying, utilizing and promoting the use of prolotherapy in sports medicine and orthopedic injuries.
Prolotherapy involves the injection of a solution of dextrose (sugar) and lidocaine into damaged tissue or joints to help promote healing.  Osteoarthritis and other forms of arthritis can be treated with prolotherapy, along with joint and tendon damage resulting from sports or work-related injuries.  In my practice, I've been using prolotherapy for over a decade to treat neck and low back pain, degenerative disc disease, knee and hip arthritis, tennis elbow, carpal tunnel syndrome, ankle and foot injuries, shoulder pain and other acute and chronic sprains and strains.
At the University of Wisconsin, I will be moderating a panel of experts discussing "Unique Prolotherapy Cases".  The panel includes US. And international experts such as  South Korean neurosurgeon Dr. Jaeyun Shim and the Los Angeles-based director of the Institute for Healing Arts Research Dr. Andrew Kochan, an international expert on use of bee venom in healing.
I will also be presenting at the conference. I will be providing an introduction lecture about prolotherapy tilted "Prolotherapy:  A Safe, Simple, Elegant and Effective Treatment."  Other topics I will present include "Prolotherapy Injections: Overviews of Solutions and Procedures" and "Injection Techniques for the Knee".
Prolotherapy is an effective, non-surgical treatment which stimulates regeneration of damaged tissue for orthopedic injuries.  It is not a new treatment.  Dr. George Hackett, a trauma surgeon, first chronicled the use of prolotherapy in 1956 as a non-invasive way to treat painful joints and chronic complex pain, later teaching the technique to Dr. Gustav Hemwall.
Unfortunately, some 60 years later prolotherapy remains an "investigational" method of treatment according to some insurance carriers despite mounting research, testimonials and scientific based evidence demonstrating its effectiveness.  The HHPF Research Symposium helps bolster the acceptance of prolotherapy and push it from "experimental" to an "evidence-based" method for treating musculoskeletal injuries.
We'll review new clinical science research in injection therapy for conditions including knee pain (osteoarthritis) and low back pain. We'll recognize research being conducted in prolotherapy from all over the world. Perhaps as importantly, the symposium fosters new ideas, relationships and collaboration for future research.
As a member of the faculty, I'm extremely proud that we will offer detailed instruction to participants in the use of prolotherapy — from basic to advanced techniques — to treat the cause of myofascial pain. There will also be hands-on clinics and much more.
More active lifestyles, the increased longevity of the senior population and consumer demand for a non-surgical treatment for orthopedic pain and injury make prolotherapy a logical treatment choice.  It is important that physicians be effectively trained to provide this treatment.
I have been using prolotherapy and other regenerative injection therapies to treat patients for more than a decade.  This conference provides an opportunity to not only pass on what I've learned but to re-energize my batteries.  I come back to my practice armed with new appreciation and knowledge for helping my patients.
I look forward to sharing what I learn with you in the coming weeks.
Dr. Annette "Dr. Z" Zaharoff heads the Non-Surgical Center of Texas, focusing on non-surgical treatments to relieve pain and repair injuries. A former professional tennis player who competed on the WTA circuit, Dr. Zaharoff remains actively involved with the US Tennis Association. Learn more about her at www.drzmd.com. You can follow her on Facebook at www.Facebook.com/DrZaharoff