By Annette "Dr. Z" Zaharoff, M.D.
One heart attack, two strokes and four seizures would be enough to sideline even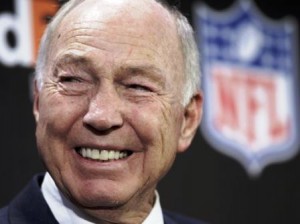 the most gifted of athletes. NFL legend Bart Starr is no exception. He was barely able to walk or feed himself after suffering this series of major health crises.
In June, the 81-year-old former quarterback of the Green Bay Packers underwent an experimental stem cell treatment in Tijuana, Mexico. During his trip, Starr met with hockey legend Gordie Howe (age 87) and former San Francisco 49ers quarterback John Brodie (age 79), both of whom also went through the stem cell therapy following debilitating strokes. Both men have reportedly made dramatic physical and mental recoveries since their treatments.
Last month, Starr's wife Cindy told USA Today that her husband was walking, eating on his own and had gained improved cognitive abilities. Starr will return to Mexico next month for another type of stem cell treatment designed specifically to help the brain.
Research continues into how stem cells – immature cells that have the potential to become any type of tissue in the human body – may be used to prevent or cure disease or injuries.  Parkinson's disease, Type 1 diabetes, heart disease, spinal cord injuries, muscular dystrophy, Alzheimer's disease, strokes, arthritis and more are all the focus of studies looking at how stem cells could be used to replace or repair tissue damaged by disease or injury.
As someone who been using regenerative injection therapy for nearly a decade now to help patients with musculoskeletal injuries, this is both an exciting and frustrating time. I was honored to speak on a panel at the World Stem Cell Summit here in San Antonio last year, and was fascinated to hear about the many breakthroughs in stem cell research.
Still, the United States continues to lag behind other countries doing cutting-edge research into stem cell treatments, yet momentum is building for more widespread acceptance of these types of treatment thanks to the growing volumes of success stories from people who have gone outside our borders for experimental procedures.
Last month in the journal Cell Biology, researchers in Scotland documented how mice with severely damaged livers re-grew healthy tissue after receiving transplanted stem cells. It's a procedure that potentially could replace human liver transplants if human stem cells produce similar results in human livers, the researchers noted.
Also last month, researchers at the Weizmann Institute of Science in Israel published a paper in the journal Nature Medicine reporting improved lung functions in mice with severely damaged lung tissue after they received embryonic stem cell injections. Lung disease is the third leading cause of death in the United States.
It's all happening quickly but also so slowly. It will take years to confirm and re-confirm these results, and to move to human testing phases.  But this is what it takes to move from the promise of stem cell therapy to the reality.
Meanwhile, we'll keep looking for those success stories and making the case for moving ahead.
Dr. Annette "Dr. Z" Zaharoff heads the Non-Surgical Center of Texas, focusing on non-surgical alternatives to relieve pain and repair injuries. A former professional tennis player who competed in the WTC circuit, Dr. Zaharoff remains actively involved with the US Tennis Association. Learn more about her at www.drzmd.com. You can follow her on Facebook at www.Facebook.com/DrZaharoff