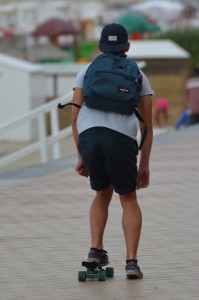 Many of you are done with your back-to-school shopping list and are ready to get the kids out the door and into a new season of learning. The start of school year is a weight off the shoulders for some parents who no longer have to find ways to keep the kids entertained at home. It can, however, be a heavy burden on the shoulders – and backs, and knees – of your children.
Maybe you've noticed your child struggling to put on an overloaded backpack crammed with heavy textbooks, folders, notebooks and the occasional school project.  As the school year wears on, does it seem like that load just gets heavier?
This can be a significant problem.  Nearly 22,000 sprains, dislocations and fractures occurred in 2013 due to backpacks – injuries treated in hospital emergency rooms, physician offices and clinics, according to the US Consumer Product Safety Commission. Some 5,000 of these ER cases involved children. One British study found up to half of all schoolchildren in the UK suffered from backaches primarily due to the heavy textbooks in their packs.
Sports medicine specialists like me have treated children with problems more commonly associated with middle-aged patients – low back pain, shoulder pain and tennis elbow – that were the result of lugging around dangerously heavy backpacks. This can be especially problematic for tweens whose spines are still growing, and can even lead to back problems later on in life.
More than a decade ago, the issue prompted lawmakers in California to pass the first bill of its kind setting a maximum weight for textbooks used by elementary and middle school students.
So how can you help your child have a safer backpack experience? A good general guideline is that the backpack should not weigh more than 10 percent of a child's body weight.
Next, consider the actual backpack that your child uses. According to the National Safety Council, you should look for the following in a backpack:
An ergonomic design
The correct size: never wider or longer than your child's torso and never hanging more than 4 inches below the waist
Padded back and shoulder straps
Hip and chest belts to help transfer some of the weight to the hips and torso
Multiple compartments to better distribute the weight
Compression straps on the sides or bottom to stabilize the contents
Reflective material
Wheeled backpacks are starting to come into fashion, and would seem to offer an ideal solution to this problem. Most schools don't allow them, however, and there's good reason why. Dragging a backpack on the ground behind you in as crowded school hallway is a recipe for tripping and falling disasters, especially considering many young students going through the awkward adolescent phase already have to deal with clumsy behaviors.
Finally, you should check from time to time what is in your child's backpack. I know many parents find children have old homework assignments or other materials they don't need to carry around. You can also help them re-package the backpack allow for a better distribution of weight.
I hope your child or children have a safe, productive and fun school year.
Dr. Annette "Dr. Z" Zaharoff heads the Non-Surgical Center of Texas, focusing on non-surgical alternatives to relieve pain and repair injuries. A former professional tennis player who competed in the WTC circuit, Dr. Zaharoff remains actively involved with the US Tennis Association. Learn more about her at www.drzmd.com. You can follow her on Facebook at www.Facebook.com/DrZaharoff