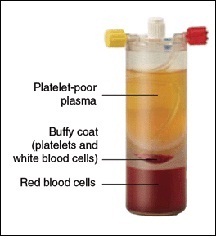 As you may know, I'm a big proponent of regenerative injection therapy techniques such as and Plasma-rich Platelet (PRP) injections.  I recently attended the 6th annual PRP and Regenerative Medicine Symposium. Healthcare providers from some 40 countries around the world were in attendance – either live in Las Vegas or watching, like me, via live streaming — to learn the latest in this emerging field of non-surgical medicine.
We are learning new things about how to make PRP injections more effective. PRP injection therapy involves taking a person's blood, separating the plasma from the blood using a centrifuge, and injecting the platelet-rich plasma into an injured area. The platelets release healing proteins called growth factors, which in turn promote accelerated tissue healing.
One of the things we'll likely be doing in the not-too-distant future is mixing up specific batches of platelet-rich solutions to better impact and effect the healing process. Think of it as a PRP cocktail – the right blend of ingredients is needed to come up with a good drink.
First a little history: Dentists and oral surgeons have used PRP injection therapy for about two decades to aid in soft-tissue recovery following plastic surgery or dental reconstruction.
Among sports medicine experts, it is growing in popularity as a treatment for everything from sprained knees and tennis elbow to chronic tendonitis, osteoarthritis and acute ligament and muscle injuries. Many professional athletes including pro golfers like Tiger Woods, NBA superstars like Kobe Bryant and numerous Major League Baseball pitchers are using the process because of the track record of promoting speedy healing and recovery.
Along with being an alternative to surgery, some orthopedic surgeons are using the technique to speed up post-surgery recovery.
One of the areas being studied now is what kind of platelet-rich plasma solution to inject, depending on the type of injury being treated. The idea of categorizing what's in the platelet solution is fairly new. How and why you inject PRP solutions can differ. For example, red blood cells in a PRP solution can cause inflammation, which can be beneficial in some treatments, but also detrimental in others. So isolating, or removing, red blood cells may be warranted depending on the treatment. Some cases may call for platelets with a mix of some white blood cells and some red blood cells.
Researchers also are looking at platelet-rich solutions with and without proteins to see what impact they have on different type of injuries.
Just two years ago we were looking at three categories of PRP solutions. Now there are 10 categories. Researchers are helping day-to-day practitioners of sports medicine like me to expand the remedies for healing.
In less than a year the 7th annual PRP and Regenerative Medicine Symposium will convene. I will be there one way or another to hear about new breakthroughs and the fine-tuning of current medical practices. I'll be eager to share what I learn.
If you are interested in learning more now, you can visit The Orthobiologic Institute at www.prpseminar.com.
Dr. Annette "Dr. Z" Zaharoff heads the Non-Surgical Center of Texas, focusing on non-surgical alternatives to relieve pain and repair injuries. A former professional tennis player who competed in the WTC circuit, Dr. Zaharoff remains actively involved with the US Tennis Association. Learn more about her at www.drzmd.com. You can follow her on Facebook at www.Facebook.com/DrZaharoff