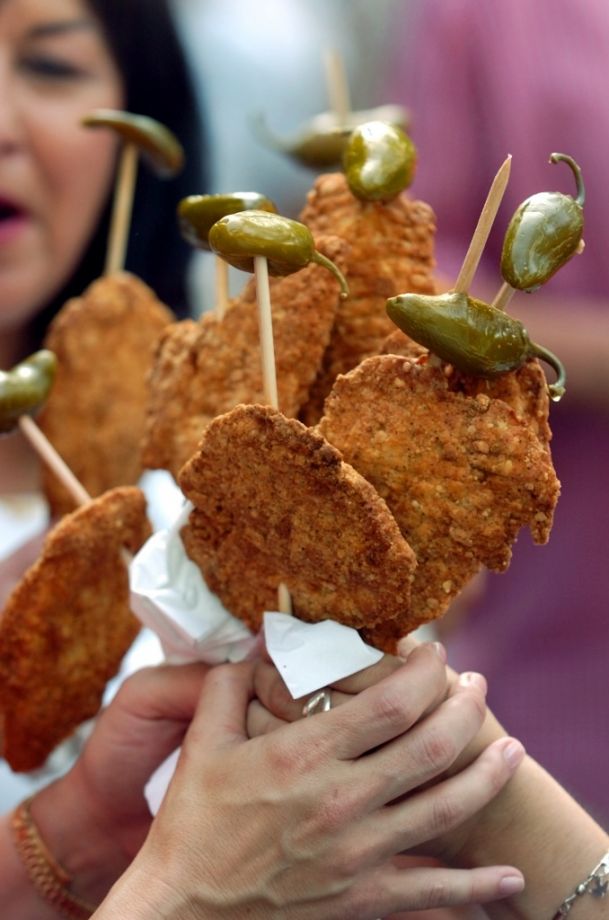 Maybe you've heard of the Mayor's Fitness Council Veg Out SA! Campaign. It's an initiative to raise awareness about healthy eating, and the benefits of making fruit and vegetables a larger part of your diet.
We launched the campaign last year and the word is spreading about how we all can do something to make San Antonio a healthier place to live, one meal choice at a time.
Now you've probably heard about another thing that's going on around town – Fiesta San Antonio 2016. It's time for Fiesta and that means parades, medals, cascarones and … healthy food choices?
OK, so churros, funnel cakes, turkey legs and gorditas don't jibe with the goals of Veg Out SA! But you don't have to give up on healthy eating to enjoy the purely San Antonio experience that is Fiesta.
Maybe one or two of your Fiesta food choices this year can be that delicious cup or ear of sweet roasted corn, perhaps with no butter or only a small pat (and definitely without the mayonnaise).  Fruit cups are pretty much everywhere at Fiesta, and the chilé limón you may add to it has no calories, so feel free to enjoy all the flavor without the guilt.
No one expects you to get through Fiesta without a fajita taco or raspa. But unless you are on King Antonio or Rey Feo's court, or are working at the Fiesta carnival, you aren't going to eat every meal at a Fiesta event.
So it's a good time to get in the habit of making half of your meal (lunch and dinner) servings of fruits and vegetables. Think about half of your plate being made up of carrots, corn, broccoli, green beans, apples, oranges, melon or other fruit and vegetables.
You can buy a whole pineapple for less than $2 – when is the last time you had one in the house?  Yes, a baked potato counts, but how about trying a sweet potato, which doesn't need all the butter, cheese and sour cream to make it a fulfilling taste experience?
This is a serious campaign, because we all know the serious problems we have in our community tied to obesity, from diabetes to heart disease. Almost none of us – more than 95 percent of San Antonians – eat the five daily recommended servings of fruits and vegetables, according to the Metropolitan Health District.  More than half the adults in our community are considered overweight or obese and, sadly, 30 percent of high school students fall in the same categories.
You can do your part for you and your family by making more healthy choices at mealtime. During Fiesta, try a different vegetable and fruit every day. You never know – you may find Brussel sprouts, jicama and kumquats are something you want to add to your diet.
If you are looking for healthy eating and cooking tips, you may want to check out the "Eat Right" blog on the Fit City SA website. Just visit www.fitcitysa.com/eat-right.
Viva Fiesta, and Viva Veg Out.
Dr. Annette "Dr. Z" Zaharoff heads the Non-Surgical Center of Texas, focusing on non-surgical alternatives to relieve pain and repair injuries. A former professional tennis player who competed in the WTC circuit, Dr. Zaharoff remains actively involved with the US Tennis Association. Learn more about her at www.drzmd.com. You can follow her on Facebook at www.Facebook.com/DrZaharoff