Dr. Julie Barnett completed pre-requisite physical therapy course work at Baylor University and graduated with her BS in Physical Therapy from the University of Texas Medical Branch in Galveston Texas. She completed her clinical doctorate degree from Rocky Mountain University of Health Professions in Provo, Utah. Special interest research review was performed on orthopedic overuse injuries in runners. Dr. Barnett received her certification in manual therapy from the Stanley Paris' Institute of Graduate Health Sciences from St. Augustine Florida.
Dr. Barnett owned and directed her private practice with specialization in sports and spine medicine from 1989-2002. She continues to work part-time as director of The Non-Surgical Center of Texas in conjunction with a physiatrist specializing in regenerative injections and rehabilitation. Her specialty areas include: manual therapy, stabilization training, biomechanical and orthotic interventions and multiple strategies incorporating taping techniques. She provides sports medicine consultation to San Antonio Fit marathon training groups for preparation for the local Rock N Roll marathon each year.  She also currently serves as Vice-President of the Texas Physical Therapy Association central district committee.
Ruben Delgado spent 20 years as a Hospital Corpsman in the U.S. Navy. He served in a variety of clinic and hospital settings and travelled the world from Okinawa Japan to Cairo Egypt and a few U.S. assignments in between. After retiring from the Navy in 2005, Ruben returned to his home state of Texas to pursue a career as a Physical Therapist Assistant. He graduated from St. Philip's College in 2008 with an Associate in Applied Science (A.A.S.) after completing the Physical Therapist Assistant (PTA) Program. He enjoys spending his free time in oil painting, photography, woodworking and spending time with his wife and son.
Pamela Galindo brings more than 25 years experience in the evaluation and treatment of orthopedic patients. She received her Bachelor of Science in Physical Therapy the University of Texas Health Science Center at Dallas-Southwestern and graduated Magna Cum Laude with a Bachelor of Science in Psychology from the Abilene Christian University. Pamela evaluates patients for flexibility, strength and balance, then implements the treatment plan to enhance performance so patients can return to pain-free living and build strength to prevent re-injury.  In addition to providing hands-on physical therapy to ensure the best possible patient results, Pam has certification in vestibular therapy, improving balance and function.
Click here to visit our Resource Center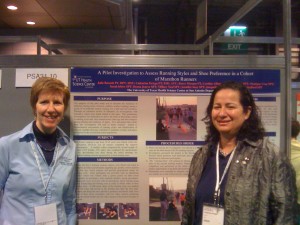 Julie Barnett and Cathy Ortega attend the ICSEMIS: International Convention on Science, Education and Medicine in Sport in Glasgow, Scotland.  Julie Barnett presented: A Pilot Investigation to Assess Running Styles and Shoe Preference in a Cohort of Marathon Runners.